about me
About me
Alain Jumel: Energy Therapist, Practitioner,Teacher and Ferryman of souls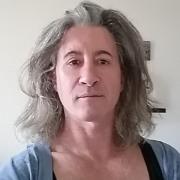 My journey
Already, from an early age I was fascinated and intrigued by the afterlife, the reincarnation, the ferrymen of souls, the regressions of past lives, I knew there was something else, other worlds (invisible) than the world where I lived, other beings etc ....
Everything started for me since the death of my mother in October 2011, I sincerely think that it is for something, I speak of my spiritual evolution because I repeat, since 2011 nothing is more like before, I have a lot, even more and more felt, I can see entities and noting that, I decided to start, I read a lot, I inquire (books, internet) and form me on these topics ( spirituality), in 2014, I begin by experiencing the regression in the past lives by hypnosis I discover three lives of which one to give just one example, I was a gladiator and I had my throat slit (charming isn't it?) I then discover the Akashic records through the book of Linda Howe and then decide to consult Sabine Lamarche on her website for an Akashic reading of my soul, having been satisfied with this reading and under her guidance , I will then consult a kinesiologist (to untie the various energetic blockages) that tells me and confirms me among other things that I had something in the chakra of the throat, strange with the gladiator who has his throat slit, right?
Subsequently, I decided to follow a training in February 2015 with Sabine Lamarche on the initiation of the Akashic Annals readings (http://www.akashik-channel.com) Then, in August 2015, I discovered and trained myself in quantum techniques Access bars, as a Certified Bars practitioner with Stéphane Prémel as a facillator (http://www.praticienshiatsu.com/cursus.php)
At this moment , everything goes very quickly, and it is after the terrible attempt of Friday, November 13, 2015 where I unfortunately lost someone, I receive a message from my guides telling me we need you Alain as a ferryman ofsouls, I was totally unaware that I could do that and it is in January 2016 that I get the training of Practitioner and Teacher of ferryman ofsouls with my teacher Didier Combé (http://amour-du-reiki.com/) it was a very beautiful meeting and a beautiful exchange.
I had the pleasure again in May 2016 to recontact my teacher Didier Combé (http://www.lahochi.fr/) so that it trains me as a Practitioner and Teacher of the LaHoChi system which is one higher frequencies of healing light. but also in November 2019 https://amour-du-reiki.com/systeme-guerisseur-divin/ for the training as a Divine Healer Practitioner and Teacher (The Divine Healer healing method has been channeled between 2015 and 2016 by Roland AUER Healer, this healing technique through the hands and heart will act holistically both physically and physiologically).
Comments
Please comment if you feel like it. I'll reply sometimes but not as often as before due to time constraints.
Thanks for visiting this page and my blog. Blessings.
Alain.
My main goal and my wish: To be able to accompany the individual towards a unique moment, always with a goal of better being and that everyone can reach a total harmony in order to find the path of the Awakening.
Last edited: 21/09/2023